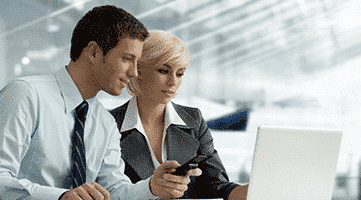 We often have the question of whether easyAudio's conference calls also work with a mobile phone. Clear answer: Yes.
With easyAudio, you can dial into the conference call either from the landline or with a mobile phone. Crucially, you can type in the required conference PIN through your phone's keyboard.
Even more flexible by mobile phone during conference calls
In fact, telephone calls are very often used with a mobile phone. The advantage of conference calls is above all the high flexibility, so that you can easily and from anywhere to take part in an appointment.
It doesn't matter if you're sitting at your desk or on the road or in the park. The only important thing is that there is mobile phone reception.
Dial-in costs with mobile phone
Dial-in to the easyAudio conference call (in Germany) via the number
01803 70 10 70. This is a service number where the costs are billed directly through the user's phone bill.
With this cheap 01803 number, the caller pays only 9 cents per minute from the German landline. When dialing in with a mobile phone, the call costs a maximum of 42 cents per minute.
easyAudio with practical cost-sharing
The cost of calling the service number is automatically settled using each participant's phone bill. Of course, each participant pays only their own share of the costs.
There is no extra invoice for the use of the conference call at easyAudio. The conference leader, too, only pays his own share of the conference call.
Find out more about the cost and billing of the easyAudio conference call here